Make Your Price Sell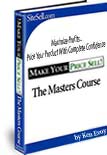 Ever wonder how much to sell your products or services for? I've struggled with that topic several times.
Pricing your products so they will sell can be tricky. You want to make the but you don't want to undercut yourself or worse yet, price yourself out of the market.
So how do you price your products effectively and at the same time know if there are enough interested people to buy your products or services?
Ken Evoy's 'Make Your Price Sell' is a free course that will give you all the information and strategies you need to determine the 'Perfect Price'. But this guide is more than simply finding the right price. He also teaches you how to get your potential customer to feel they will benefit, even profit, from buying your product or service, no matter what the price.
Ken also

covers things like
key business models, target market profiling, the importance of the perceived value of your product and more. All the

things

you're going to need for making a profitable pricing decision.
Ken is a brilliant marketer and he understands what makes people buy. Use his knowledge and expertise to price and sell your products effectively.
There are no strings, no sign-up or sales pitch just
'honest to goodness'
valuable information.
(Left click to open ebook or right click and select "Save As" to save it to your computer)
.