Net Writing Masters Course
Learn to Sell More on the net by Writing Better Web Copy.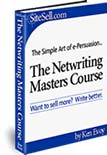 Every success you achieve online starts with writing copy that has the potential to compel, interest, raise curiosity and connect with your audience.
Doing those things first is what drives sales.
But it's even more than that, it's also about getting targeted, quality traffic and pre-selling your products or service.
If you can't do those things effectively, you won't make nearly the sales you need.
So Where's the Best Place To Start?
Take The Net writing Masters Course. It is the only free ebook and guide that covers writing for the web for both PREselling and selling. Most other net writing guides focuses only on writing to sell; that's not enough for connecting with your readers and building trust which are essential sales converting strategies.
The Net writing Masters Course is FREE but that doesn't mean it's not great. This is one of the best writing courses I've come across. It completely follows Ken Evoy's philosophy of over-delivering and helping you succeed.
The course philosophy is this:
1) Connect with your readers - Create the information that your prospective customers want.

2) Attract targeted traffic -- win the Search Engine wars!

3) PREsell your visitors -- build confidence (people buy from those they trust).

4) Convert traffic to sales -- sell (whatever that may be... hard goods, e-goods, services, even clicks on Google ads).
The Netwriting Masters Course is the first and only course that shows you how to get the whole process correct.


Net Writing Masters Ebook & Course
(Left click to open ebook or right click and select "Save As" to save to your computer)